Projects
Currywurst Media (What's Cooking) is an independent publisher with a strong focus on quality cookbooks for both consumer and corporate segments. Based from little old New Zealand, we develop products for the local market and abroad (United States).
Our in-house specialists include a designer, photographer, food stylist, recipe editor, and chefs; are all essential to delivering high-end, bespoke products that fill both your visual and culinary appetites. Combined as a team, we have a wealth of experience publishing under our belt across 7+ titles.
Below is a collection of past and current projects we are working on.
With more than 90 recipes, great food anecdotes from the people of Dunedin and stunning food photography by New Zealand's leading food photographer Kelly Lindsay, Delicious Dunedin is your essential guide to the culinary treasure trove of the city and the perfect gift for every New Zealander and visitor to our beautiful city.
(Published August 2018)
For most of us, the memory of the food that our mothers served us as children never leaves us, a comforting reminder of the maternal bond that resonates through our adult lives. It is these memories, so often treasured, that are the inspiration for My Mother's Kitchen.
(Published August 2017)
The What's Cooking series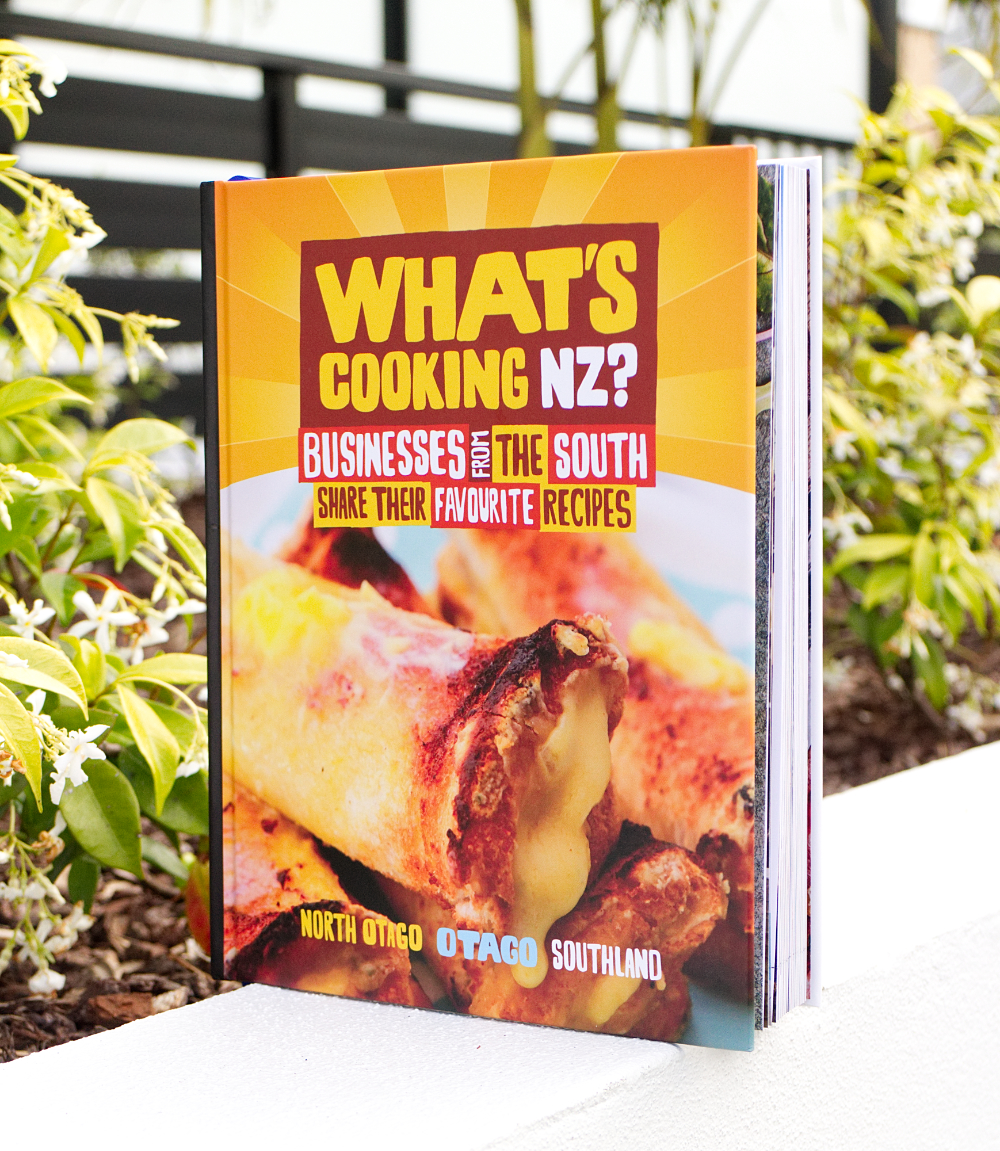 What's Cooking NZ – Otago & Southland
We invited 70 North Otago, Otago and Southland businesses to feature in our 4th business directory cookbook. It also features custom artwork by Dunedin artist Frank Gordon on the back cover.
(Published November 2018)
For 2018, we headed north to Auckland to gather businesses to be part of the first What's Cooking publication for Auckland.
(Published November 2018)
We invited 60 businesses from around Otago to showcase themselves with beautiful photography and their beloved recipes across 2 spreads. It has been a hit as client or special occasion gifts that has fuelled us to expand this concept to other regions.
(Published August 2017)
NZ's Top Real Estate Professionals
As part of our What's Cooking Business Directory series, we partnered with Raywhite agents to develop this cookbook featuring 50 of the top Real Estate agents from across New Zealand.
(Published August 2017)
A diverse selection of recipes and intimate cooking stories from a raft of our favourite personalities who want to make a difference. The recipes and stories are accompanied by sumptuous photography, mostly taken inside each celebrity's own kitchen.
(Published September 2016)